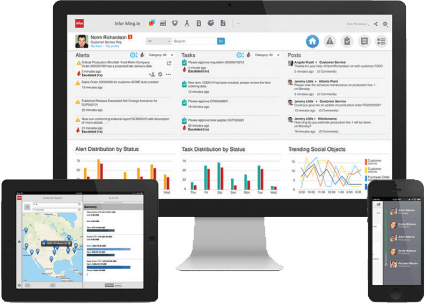 Infor OS's cloud–based delivery makes systems flexible, cost–effective, and forever modern. Serving as the foundation for Infor's industry–driven CloudSuites, which provide the last–mile functionality organizations need without costly and limiting customizations, Infor OS gives you a technology foundation capable of handling today and whatever comes next.
Complete Industry Suites
Industry–specific solution suites, fully integrated and deployed securely in the cloud, give you functional depth and flexibility.
Secured Hosting
Hosting by Amazon Web Services (AWS) puts your data in one of the most secure cloud environments available today, while also delivering the highest performance standards.
Flexible Deployment Options
Deployment options put you in control. You can deploy in the cloud, on–premises, or a hybrid of both, and scale server capacity as needed.
Video
CloudSuite Industrial covers every aspect of an organization
Watch Video
Free Consultation & Demo
Connect with our ERP expert who will understand your ERP requirements or the challenges you face with your current implementation and provide you with the best strategy forward. Understand our solutions better with live demos.